You are here:
Beatrice's story
Beatrice Makuruciu is 36 years old and she lives in a village in Siaya Country, Western Kenya, with her husband and seven children. She is a very busy woman, she owns a shop in her community, does household chores, and cares for her family of nine. So, when someone gets sick, her responsibilities multiply: "A week ago, all my children and my husband had malaria. It was very hard for me as my husband was sick at home, and none of the children could go to school. I had to do double the work - looking after the shop and the family. It was very difficult."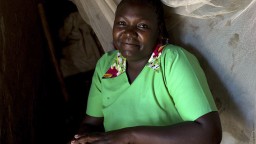 Despite the difficulties, having a community health worker in her own village makes it easier for people like Beatrice and her family, who otherwise wouldn't be able to access the closest health facility. "I am really helped by the health workers because every time I have to take a baby to the clinic, I need to close my shop."
These community health workers were trained by the malaria control project, funded by Malaria No More UK and implemented by PATH, that seeks to build and to sustain high levels of malaria control coverage to improve the quality and access of malaria diagnosis, treatment and care. "The community volunteers are very useful. Sometimes we can call them even at night, and when it is very rainy and muddy, and we cannot walk, then they (…) can treat our children at home."
Besides treatment, the project also provides information and prevention tools such as mosquito nets, but economic support is still very much needed to cover everyone's needs: "I wish the community health workers had enough stock of mosquito nets, as they sometimes run out".
Through our work we're inspiring the global support and resources needed to make sure that families like Beatrice's are protected from malaria and able to thrive.