You are here:
Augustine's story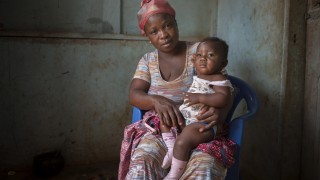 Augustine's story
Mother-of-four Augustine has seen first-hand the impact that malaria can have on young lives. She has had to watch her son Philip suffering from malaria for the past four years. But the good news is that her youngest daughter Rejoice is benefiting from the world's first malaria vaccine.
"My baby girl, Rejoice, is having her second malaria vaccine today. She had her first one last month and she is doing fine."
Augustine and her family live in the town of Kintampo in the East Bono region of Ghana. She and her husband are both labourers who help to harvest cassava and struggle to find the money needed to pay for Philip's medical treatment each time he has malaria.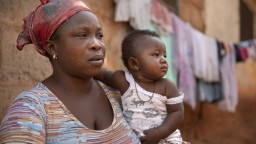 So when Augustine heard about the new vaccine on the radio and met with nurses from the Ghana Health Service, she jumped at the opportunity for her seven-month-old baby girl Rejoice to be immunised.
"We know the vaccine works in nearly half of the children who have it," she says, "and we were told to still use the nets we have too to help protect us and the other children, but this is a chance for Rejoice to stay well and to grow up strong, to have her education and to have a better life."
Like any mother, Augustine just wants the best for Rejoice. "Maybe one day she could even become a government worker – I don't want her to struggle like me. I think that every child in Ghana should be offered the vaccine. No child should ever die from malaria," she concludes.
RTS,S is the world's first malaria vaccine that has been shown to reduce malaria cases in young children in 40 per cent of cases. If administered correctly, offers five years of protection. Currently being piloted in Ghana, Kenya and Malawi, the vaccine is intended as a new complementary tool to be used alongside bed nets and spraying to significantly improve malaria control, and more than one million children will be immunised by 2023.