You are here:
Adams' story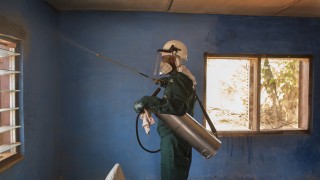 Adams' Story
Adams sprays houses in, Obuasi, Ghana. For several months the insecticide will kill mosquitoes that come in to contact with it. He provides a vital service helping his community live malaria-free lives once the rainy season hits.
Adams got involved with the programme when he heard an announcement on the local radio: "The gold mine needed more people to help in the fight against malaria to prevent the children from dying. That is the reason that I became an insecticide sprayer in my village."
For Adams, the malaria fight is personal, "I have seen many people who I know struggle with it [malaria] over the years. I also had malaria when I was a boy. For a mother or a father to stay at home to care for a sick child is another day not working, so everyone suffers. Your work and finances all come down. I have also had malaria many times as an adult. At first, I lose my appetite, and then I start shivering during the day, and I get so hot in the night. I also get a bitter taste in my mouth. I could never work when I have malaria."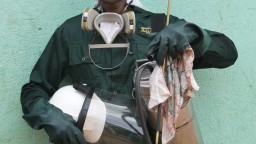 Adams knows that it is children and pregnant women that are most vulnerable to die from malaria. When his son, King, was born the risk became all too real:
"I cannot dream of anything worse than losing a child, and I don't want that to happen to anyone. Malaria is preventable, the mosquito isn't unbeatable, so I encourage people to get the spraying done so that when mothers deliver their babies, they will save themselves and save their child."
Adams' work, spraying the homes with insecticide each year has proved effective. In fact, in his community, since they started spraying houses in 2006, malaria cases have dropped by 74 per cent. Before the programme began, 70% of hospital cases were due to malaria, and now it is less than three per cent.
"It has helped the whole of Obuasi township. There is less malaria, and everyone appreciates that here. I feel very happy every day to know that I am being of assistance."
But Adams knows he can't give up and that to end malaria we need everyone's involvement, "We have to try very hard to get rid of malaria for good, everywhere. If we had it that way, we'd be happy for ourselves and happy for Ghana. That is why we are still taking part to try to eradicate it. We hope that by the time that King grows up and has his own family, we will have destroyed it."