You are here:
Alex's story
My Miles for Malaria was a Double Centurion Challenge – yes, that's cycle 100 miles, run 100 Miles. And I'm often asked why. Many people think I must be crazy or call me a nutter! And to be honest the idea probably came when I was having a few beers in the pub… But I honestly believe that malaria is such a devastating disease for so many that I wanted a fundraising challenge that would push me to my limits because it would reflect the passion I feel about ending this disease and the drive to raise as much money as possible.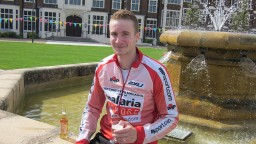 I have firsthand experience of malaria, having contracted an often fatal strain of the disease, malaria falciparum, while doing some sports coaching in a rural village in Ghana (12 of the 60 students on that course contracted malaria over a three month period!). I was one of the lucky ones. I'll never forget the little boy in the hospital bed next to me who died from the disease. Knowing that my fundraising will help provide life saving tools such as mosquito nets for families and children who live in areas at risk of malaria made it something I had to do.
I know from my own bitter experience that malaria doesn't only affect people in Africa and other developing countries – it's a disease that doesn't discriminate and Malaria No More UK are working not only to help save lives in Africa, but also make sure British travellers know the risks they face when abroad in malarious areas. My best mile in the challenge was the last mile when, after 26 tortuous hours of pain and rollercoaster of emotions, I saw my mum and my girlfriend at the finishing line. Utter jubilation and utterly worth it!