You are here:
Nandi's story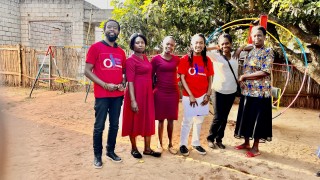 Nandi's world was forever changed when he lost his son to malaria in 2016. To this day, Nandi keeps Ethan's memory alive by working to end the disease that took his life.
Nandi Kachapila moved to the UK from Malawi to study in 2004, at first living in Manchester before meeting his partner and settling in Wigan, where Ethan was born a healthy, thriving baby. 
Three years later, Nandi's visa situation meant he had to return to Malawi. His partner and Ethan joined him six months later. "We stayed with my parents for a little while, and I got a job with a mobile communications company here." The family began to settle into their new life.
In 2015, Ethan turned five. "He was a very playful guy, very playful," Nandi remembers, "he was doing great."
It was around this time that Ethan became ill for the first time. "His first bout of malaria was mild," says Nandi. Ethan recovered, but soon fell ill again.
Nandi came home one day to discover Ethan was having stomach pain. Ethan's mum was giving him pain medicine in the hopes he would get better on his own, but the symptoms continued for two days. "On the third day while I was away, that's when [Ethan's mum] called me to say 'I think it's not the stomach anymore'," says Nandi.
Ethan was rushed to hospital, where he was diagnosed with uncomplicated malaria and given medicine to take home. Later, he became unresponsive. "Sometime around 11pm, he just collapsed, and he never really came back from that."
After being rushed to hospital again, Ethan's health worsened, and he was put on oxygen.
"What aggravated it was the settings where we arrived in the hospital," explains Nandi, "They didn't have the medications. This is the central hospital, the main hospital in the northern part of the country, it's a city – but they just didn't have it."
Nandi was forced into a frantic hunt from pharmacy to pharmacy for medication that could save his son's life as Ethan slipped into a coma.
"I left the hospital and just went to every pharmacy I knew, every pharmacy in town, and they just didn't have it."
Finally, Nandi tracked down a hospital administrator who helped him obtain the medication. But over two hours had passed by the time he returned to Ethan's bedside.
"When I got there, they said he'd gone into another phase… It was too late."
Lack of funding and resources in health systems factor heavily in the weight of malaria burdens, driving up preventable deaths.
Ethan made it through the night, but in the morning his parents were told he was going into kidney failure and would need dialysis – yet the hospital would be unable to provide it. "At the central hospital to this day, they don't have a dialysis machine."
Sadly, Ethan passed away. He was just five years old.
"I was naïve to think that kids get sick and then they'll get well. Having been in the UK for 10 years, I had almost forgotten that malaria is what it is," says Nandi.
"What was most painful was that hope of giving him a better life. I had always had in mind that once we settle, once I get this job, get him into school, life will go on from there – it was most painful thinking of the sacrifices that I had made. I just felt like I failed him."
Nandi's search for something that could give him meaning and closure in the face of this devastating loss led him to consider what he could do to contribute to the fight against malaria. He donated the unused drugs he had obtained, and began asking what else the hospital would need, finding it within his own means to donate the necessities.
"As time went on, my mum came up to me and said, perhaps we can do more in trying to honour his memory. We had this idea to have a foundation."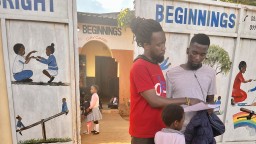 From there, Nandi founded Ethan's Voice. After registering the foundation, he began visiting schools and sharing his story, sensitising parents to the dangers of malaria and what they could do to prevent it – from the importance of early diagnosis and testing to using mosquito nets correctly and closing windows after dark.
As the work was well-received, the foundation's activities grew. "We've seen a lot of families come through the service with us. The schools have been welcoming. We saw areas where there was real need. With the little that we had, we also managed to purchase some nets locally and distribute them."
Nandi continues to advocate for an end to malaria and does what he can to realise his vision for a better future. He believes action has to come from leadership as well as individuals.
"I am an optimist at heart. I always look for the best in things and people and in systems. I feel that if we can create a big enough movement to say we're doing something as a people, the government will react."
Nandi believes we can end malaria if people and leaders come together to get the job done. "Make sure we have medicines available in the hospitals, that those nets are distributed. They're not getting to the people that really need them."
"My message to leadership would be that every life counts, every life matters," says Nandi. "I look at my own story and all the hopes I had for my son; all the things I had hoped he would become. We all have these grand ideas for our children. If there was one thing I would say it's let's value those lives. If we say they are the future, the future is now."