You are here:
Fever-Tree heroes run miles for malaria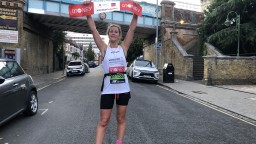 Fever-Tree marathon runners raise over £7,000 for Malaria No More UK.
The world's largest marathon took place on Sunday 3rd October 2021. The Virgin Money London Marathon had 100,000 participants with 50,000 people running in London and 50,000 running virtually from around the UK, and the world. Seven colleagues from our longstanding partner, Fever-Tree, took part and completed the Virtual London Marathon, while raising vital money to help end malaria for good.
The fight against malaria is a cause closely aligned to Fever-Tree's roots, with the discovery of anti-malarial properties of quinine (tonic water's key ingredient) in the early 1600s being one of the most significant in medical history. Quinine is sourced from the cinchona tree, known colloquially to local growers as the 'fever tree'. Fever-Tree and Malaria No More UK have been working together since 2013, and the British premium drink company and its passionate team of committed colleagues will have donated over £1.5 million towards the fight against malaria by the end of 2021.
These determined runners not only finished the tough 26.2-mile race, but they have also already raised thousands of pounds so far, which Fever-Tree is generously matching. Their dedication and support fuel us to continue working to create a world free from malaria so that one day every child, young person and pregnant mother can live a healthier life free from the threat of this deadly disease. Thank you, Tad, Helen, Olivia, Jonathan, Sophie, Laura, and Liz, for running this marathon to make malaria no more.