You are here:
Corporate partnerships
Our mighty partnerships
We collaborate with passionate and like-minded brands and businesses such as Fever-Tree, GSK and Rentokil Initial. Together we've produced exciting, inspiring, integrated campaigns with far-reaching impact and consumer stakeholder engagement, all founded around the same shared vision - a world without malaria in our lifetime.
Your staff can make a difference
Take part in one of our exciting challenge events or organise your own activity - there's no better way to get the team working together, and saving lives.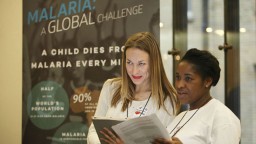 Donate time and talent
If your business has skills to share or time to give we would love your support. Whichever way you give, it all adds up to help end this killer disease. Can you donate time? Let us know!