You are here:
Bride & Groom share the love with Malaria No More UK
Newlyweds raise £2,985 in loving memory of brother, Harry Yirrell
Ffion Thomas and Berry Yirrell celebrated their marriage on Saturday, 30th October 2021 with friends and family, including our Special Ambassador and Mum to Berry - Jo Yirrell.
However, someone very special to everyone was missing - Jo's oldest son Harry, who is Berry's big brother. Harry passed away in 2005 after contracting malaria while volunteering at a school in rural Ghana. Ffion and Berry wanted Harry to be part of their big day and so in his honour, the couple asked their guests to donate to Malaria No More UK instead of buying them a wedding present. Together, they raised a remarkable £2,985 that will help to combat malaria so other families won't have to suffer the same devastating loss that they've been through.
Malaria, a preventable and treatable disease still takes the life of a child every two minutes. Harry witnessed first-hand the crippling impact that malaria has on the lives of those who live in malaria-endemic communities and had given his antimalarial medication to children who didn't have any. This act of incredible compassion stays with his family, who have become life-long, avid supporters of Malaria No More UK with Jo championing our cause locally and globally since we launched in 2009.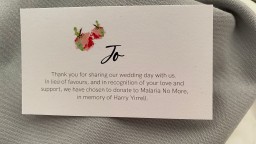 This same empathy and compassion lies with the happy couple's family and friends, and we are very grateful to every one of them that kindly donated to Malaria No More UK. Together, we are helping to accelerate the end of malaria, so that one day every child, young person and pregnant mother can live a healthier life free from the threat of this deadly disease – all in Harry's name.
From everyone at Malaria No More UK, we wish Ffion and Berry a lifetime of happiness and good health and truly appreciate their generosity and grace.