You are here:
2021: An important year fighting malaria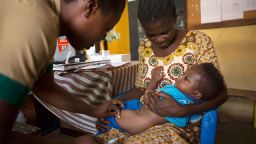 The World's First Malaria Vaccine Get's Approved
In a historic moment, the WHO approved the use of the world's first malaria vaccine - a critical step in building armoury against this deadly disease. The RTS,S vaccine took 20 years of development, in which the British company GlaxoSmithKline played an important role.
The Jenner Institute at Oxford University is also producing a new malaria vaccine. In its stage 2 clinical trials, it proved to be 77% effective. Vaccines, while not a silver bullet, will be vital tools in our toolkit to end one of the world's oldest diseases.
Malaria vaccines will become key weapons in ending malaria for good, ensuring millions around the world can live safe and healthy lives.
The Draw The Line Against Malaria campaign is launched
In February Zero Malaria launched its new campaign calling on young people from across Africa and the globe to Draw The Line Against Malaria, to show world leaders that we're the generation to end it.
The campaign reflects the energy, talent and culture from across the continent, made possible by some of Africa's biggest changemakers including marathon runner Eliud Kipchoge, South African rugby captain Siya Kolisi and Nigerian actor Dr Omotola J Ekeinde. In 9 months, this community-led campaign has made 1.4 billion impressions, achieved more than 24m digital engagements and has won multiple prizes.
Brits agree science is the UK's biggest strength
At a time when global health and science have been put in the spotlight, British efforts have given the nation inspiration and a sense of pride. In a poll, 76% of Brits said science and medicine is the UK's biggest strength and more than half of them say it is the country's most valuable contribution to the world stage. British-led science is helping transform the malaria fight including the development of game-changing malaria vaccines, and next-generation insecticide nets.
We released a report earlier this year to showcase how British-led science is playing a critical role in the malaria fight, read it here.
Fighting malaria is a win-win
We were joined by the BBC's Kasia Madera in June to host our Malaria Win-Win event that brought together political leaders to discuss how fighting malaria is of benefit to all of us. By ending malaria we will advance global health security, saving millions of lives and enhancing the world's ability to overcome future health threats and pandemics.
China and El Salvador reach zero malaria
In June, after a 70-year effort, China was awarded malaria-free certification by the WHO. As recently as the 1940s China experienced 30 million cases every year. Yet through a determined effort of targeted and sustained action malaria has been eliminated – showing that being malaria-free is possible for every country.
In February, after an amazing 50-year feat, El Salvador became the first Central American country to become malaria-free – despite being prevalent in many of its neighbouring countries. This lifesaving dream was made possible through the country's sufficient and dedicated human and financial resources.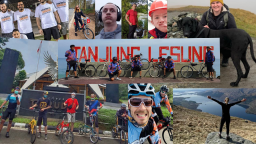 Thank you to all our partners and donors
We're incredibly grateful to all that our partners and donors are doing to help make a malaria-free world a reality. The year saw two important partnership milestones. Rentokil Initial celebrated ten years of fighting malaria with a  'Race to Kigali', which saw teams from across the globe collectively run, walk and cycle more than 850,000 kilometres raising over £211,000. The end of the year has also seen longstanding partner Fever-Tree reach their milestone to donate an incredible £1 million between 2019 and 2021, a contribution that is helping reach our shared goal of a malaria-free world.  Thank you to all who have given your time or support. 
WHO's 2021 World Malaria Report
This year's WHO World Malaria Report should serve as a wake-up call to our leaders, with malaria deaths rising to 627,000 in 2020 – the highest for more than a decade. Despite this news, global efforts have seen 10.6 million lives saved and 1.7 billion cases prevented, but without a renewed global effort and accelerated action the fight for a malaria-free world is at risk. Read the report in full here.