You are here:
Zero Malaria's Draw The Line campaign wins the Grand Prix at World Media Awards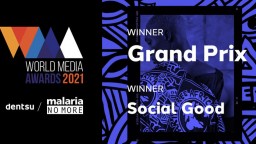 We're Beyond excited that the Zero Malaria Starts With Me – Draw The Line campaign won two prestigious awards at the World Media Awards.
Back in February people from across the African continent and globally were invited to join the Zero Malaria Starts With Me movement and take action to end the world's oldest deadliest disease with this bold new global campaign. It is powered by African changemakers, including Eliud Kipchoge, Olympic Gold-medallist and marathon world record-holder; Siya Kolisi, Captain of the Springboks; Dr Omotola J Ekeinde, Nigerian actress and philanthropist; Sherrie Silver, award-winning Rwandan British choreographer; and Láolú Senbanjo, global artist from Nigeria and Art Director for the campaign.
Since the campaign launched we have been overwhelmed to see it harnessed by leaders, communities and malaria champions to galvanise action to end malaria within a generation. These prestigious World Media Awards show the campaign being recognised in the media sector, it really is beyond exciting for everyone involved. None of this would have been possible without our incredible partners at dentsu International that not only lead on the creative but enabled the campaign to be seen by millions across the world.
The Draw The Line Against Malaria campaign, reflects the energy, talent, and cultural influence emanating from the African continent – embracing art, fashion, music, sport, and entertainment. The campaign is brought to life through a powerful film highlighting young people taking charge of their lives and refusing to allow malaria to steal their futures anymore.
Despite a year and a half of constant changes in plans, schedules, the media teams at dentsu were creative, agile and persistent enough to develop a killer media strategy for a beautiful campaign they built for the malaria community. 
It is almost unbelievable that a campaign with a zero media budget was able to reach so many millions of people across the world – helping to draw attention to one of the world's oldest and deadliest diseases during a global pandemic. 
We are truly grateful to all our partners who have helped make this possible!