You are here:
The World's first malaria vaccine gets funding so it can be rolled out
We welcome the decision by the GAVI Board, which comes at a critical time for the fight against malaria.
After years of under-prioritisation and stalling funding, compounded by disruption to malaria services caused by the COVID-19 pandemic and emerging threats from the natural world, innovative life-saving new tools like the RTS,S vaccine offer hope for the future. 
The central role played by British company GSK in the development of RTS,S - alongside British-funded institutions such as the Global Fund and GAVI - highlights the vital part British investment and expertise is playing in developing malaria vaccines and finding new, more effective ways of delivering them.  
However, malaria is too complex a disease for any one tool to defeat on its own, and vaccines are not a silver bullet. To get back on track in the fight against malaria, the use of malaria vaccines will need to be balanced alongside continued investment in efforts to expand access to and optimise the use of, existing interventions for malaria prevention, diagnosis, and treatment, and to strengthen the frontline health systems needed to ensure they are available in the right places and at the right times.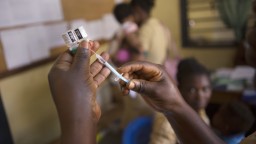 By investing in the research and innovation needed to ensure the continued development of a range of new tools and backing key institutions such as GAVI and the Global Fund that play a vital role in ensuring they reach those that need them most, the UK government can help save millions of lives.  
As we look to the future, it is vital that the UK Government commit long-term financing for malaria research and innovation and make an ambitious pledge to the 7th replenishment of the Global Fund to ensure it can continue its life saving work. 
British-backed science is also leading the development of other lifesaving interventions, including next generation insecticide-treated nets, digital diagnostics, genetically modified mosquitoes, and cutting-edge antimalarial drugs. These innovations are profiled in MNMUK's recent report Best of British: How British-backed science can accelerate the end of malaria. 
Recent polling shows this leadership is welcomed by the British public, 54% of whom view science and medicine as Britain's most valuable contribution to the world stage. 
By supporting the fight against malaria, the UK government can also play a leading role in strengthening health security and creating a safer world for us all, by building our capacity to fight infectious diseases, reducing the existence of disease 'blind spots' in malaria-endemic regions, and decreasing the burden on fragile health systems in some of the world's poorest countries.