You are here:
WHO World Malaria Report 2021
New figures show a dramatic rise in malaria deaths
The 2021 annual World Malaria report from the World Health Organization, shows that malaria deaths have risen year-on-year, to 627,000 in 2020, the highest level in nearly a decade.
Latest figures show that disruption caused by COVID-19 contributed to a 69,000 increase in the number of malaria deaths between 2019 and 2020.
While the strenuous efforts of countries, partners and community health workers have succeeded in averting the worst-case scenario of a doubling of malaria deaths in Sub-Saharan Africa – highlighting the effectiveness of global investments in malaria prevention, control and elimination – this 12% increase in malaria deaths represents a devastating loss of life from a preventable and treatable disease.
Children under 5 in Africa continue to bear the brunt of malaria. However, new figures show thousands more children than previously thought are dying of this preventable and treatable disease. Children under 5 are especially vulnerable, accounting for 80% of malaria deaths on the continent in 2020. Around 481,500 children under 5 lost their lives to this deadly disease in Africa over the last year alone.
This new report shows a child is dying every minute from malaria. The situation is worrying, the fight against malaria is at risk, and without immediate and accelerated action further ground may be lost.
But we can do something about this. We know how to end malaria. 
Since 2000, 10.6 million lives have been saved and 1.7 billion cases have been prevented as a result of strong political will and new and effective interventions. Going forward game-changing science and innovation have a huge role to play. British-backed science- such as the quest for an effective and affordable malaria vaccine, and the development of new techniques to combat drug and insecticide resistance –are transforming the fight against this deadly disease.
Our work is far from over.
The increases in malaria cases and deaths seen in 2020 come on the back of years of plateaued funding and under-prioritisation. Without greater investment global targets to reduce malaria by 90% won't be met by the end of the decade.
As we look forward to the 7th replenishment of the Global Fund to Fight AIDS, Tuberculosis and Malaria next year, the UK Government must reaffirm its leading role in the malaria fight to ensure that 2022 is the year that progress against malaria gets back on track.
The UK government must commit long-term financing for malaria research and innovation and make an ambitious pledge to the Global Fund to ensure it can continue its life-saving work and protect all our futures.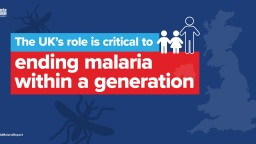 Now, more than ever, we need to accelerate progress in the fight to end malaria. What we need is the right tools, in the right place at the right time, to ensure that we will be the generation that ends malaria for good.
More information on new methodology used in the 2021 World Malaria Report
This year's WHO World Malaria Report applied a new statistical method to calculate the number of malaria deaths among children under five years of age since 2000. This new methodology, is being used across the WHO and provides a more precise cause of death estimates for young children for all diseases, including malaria.
Applying the new methodology reveals higher numbers of estimated malaria deaths across the entire period 2000–2020, compared with previous analyses. It shows that malaria accounts for a larger share (7.8%) of deaths among children under the age of 5 than previously recognised. The previous methodology found that malaria accounted for 4.8% of deaths among children under five.
Even after applying the new methodology, the malaria death rate maintained an overall downward trend from 2000 to the present day, with an estimated 10.6 million malaria deaths being averted globally in the period 2000–2020.