You are here:
Our advocacy work
Our advocacy work
We know how to end malaria we just need to join all the dots to do it. Malaria No More UK works in the UK and beyond to ensure we have the right mix of  leadership, support, tools and innovation around the world to help us achieve our goal.
Here in the UK we work with the Government and members of parliament from across the political spectrum, as well as business and civil society, to forge a powerful coalition to end malaria.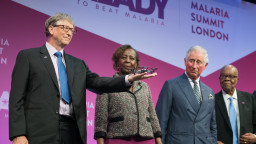 Our work in the UK
As the world's second biggest donor in the fight against malaria, the UK is helping to lead the way in ending the disease. UK investment and innovation has been instrumental in helping to save 7 million lives since 2000.
Our aim is to halve the number of deaths caused by malaria by 2023. It's ambitious, and with malaria showing resistance in certain areas around the world, it's not going to be easy. But through partnerships that unlock vital funds to fight these new strains, we know we can do it.
The APPG on malaria & Neglected Tropical Diseases
MPs and Members of the Lords play a vital role in debating and legislating which set the policy agenda on how we contribute to eliminating malaria and NTDs. The APPG sits within the UK Parliament to build cross-party support in the fight to end malaria & neglected tropical diseases.