You are here:
New study finds malaria deaths can be cut by 70%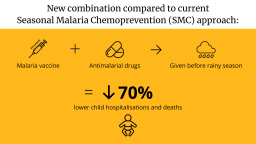 A new study in Burkina Faso and Mali finds seasonal vaccination and preventative drug combination lowers child hospitalisations and deaths from malaria by 70% compared to current interventions
The study, published today in the New England Journal of Medicine, has found that providing a combination of the world's first malaria vaccine RTS,S/AS01 and anti-malarial drugs to young children before the rainy season lowers hospitalisations and deaths from malaria by approximately 70% compared to current interventions.
The current intervention method used in both countries taking part in the trial, Burkina Faso and Mali, is known as Seasonal Malaria Chemoprevention (SMC) and involves providing young children with anti-malarial drugs each month during the rainy season, during which the majority of malaria infections occur.
The new research combines the provision of SMC with RTS,S, and could substantially reduce cases of life-threatening malaria in the African Sahel.
The ground-breaking vaccine, created by GSK, has cost hundreds of millions of dollars in research and development investment, and taken over 30 years to develop. It is the only malaria vaccine to have successfully completed Phase 3 trials. More than 1.7 million doses of the vaccine have now been administered in Ghana, Kenya and Malawi, benefitting more than 650 000 children with additional malaria protection.
The new treatment combination was tested in a three-year randomised controlled trial of 6,000 children in Burkina Faso and Mali, both countries with high malaria burdens. Deaths from malaria in the combination treatment group were reduced by 72.9% compared to the SMC only group and 75.3% compared to the vaccine only group.
Professor Brian Greenwood from the London School of Hygiene & Tropical Medicine said: "The world has made great strides in tackling malaria but the pace of progress has slowed considerably in recent years. We urgently need new interventions, particularly in many parts of the Sahel and sub-Sahel where the burden of malaria remains very high.
"The results are very striking and could pave the way for a potential new approach to malaria control."
A member of the research team, Professor Daniel Chandramohan, noted that the "results of the trial were much more successful" than had been anticipated and that the combination approach "has the potential to save millions of young lives in the African Sahel".
Dr Pedro Alonso, Director of the WHO Global Malaria Programme, said: "We welcome this innovative use of a malaria vaccine to prevent disease and death in highly seasonal areas in Africa. RTS,S is the first malaria vaccine that has already reached more than 740 000 children through routine childhood vaccination in Ghana, Kenya and Malawi in a landmark pilot implementation, through which more than 2.1 million malaria vaccine doses have been delivered."
Professor Jean-Bosco Ouedraogo from the Institut de Recherche en Sciences de la Santé and a member of the vaccine research team said: "I am really proud of the contribution of our African research teams to these fantastic results. I hope that this evidence will be taken into account by decision-makers as a new additional strategy for saving children's lives in Africa."
The trial was coordinated by the London School of Hygiene & Tropical Medicine (LSHTM) with partners Institut de Recherche en Sciences de la Santé, Burkina Faso, and the Malaria Research and Training Centre, University of Science, Technology and Techniques of Bamako, Mali.