You are here:
76% of Brits view science as the UK's biggest strength
Over half of Brits say science and medicine is Britain's most valuable contribution to the world stage
At a time when global health and science have been put to the test, British-led efforts have given the nation inspiration and a sense of pride.
A new report, Best Of British – How British-backed Science Can Accelerate The End Of Malaria, shows how British-backed science and research is helping to transform the fight against malaria. This includes the development of game-changing malaria vaccines, next-generation insecticide nets, genetically modified mosquitoes, and modelling the impact of different climate scenarios on populations at risk of malaria. 
New YouGov polling shows that 76% of Brits felt most proud of British-led science over arts and culture, sport and leisure and manufacturing and engineering.
The pandemic experience has led to strong public backing for continued investment in tackling malaria. As well as pride in science, polling revealed that over three quarters (77%) of Brits feel it is important that the UK continues to invest in preventing malaria. A similar number (80%) believe that it is important for UK security to invest in global disease prevention.
These strong polling results reveal that Brits don't only care about what happens on their doorstep; they want to see the UK deploy its scientific know-how to help alleviate the burden of deadly diseases around the globe.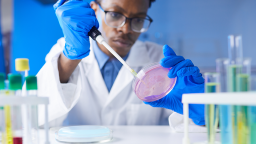 World-leading scientists tell us ending malaria is possible, but numerous emerging challenges are now threatening the landmark global accomplishments achieved to date. Malaria is now at real risk of global resurgence, not only due to the knock-on impact of COVID-19, but because of new biological and environmental threats from the natural world, including insecticide and drug resistance and the increasingly rapid loss of natural habitats key to the development of many new medicines.
As we look towards the upcoming Spending Review this Autumn and replenishment of the Global Fund to Fight AIDS, Tuberculosis and Malaria next year, Malaria No More UK is calling on the UK Government to build on the momentum generated by UK science's world-leading role in combatting COVID-19 by backing malaria research and innovation to allow countries to sustain critical malaria interventions in the face of COVID-19 and ensure key tools get to those that need them.